Level:Easy
Time:Active 10 min, Total Time:30min
Cost: About $2.50 per dozen
So, we love bacon, and we're guessing you do too if you are reading this post:) Our friends introduced us to these sweet and savory snacks recently, and we're IN LOVE! Today we're going to run through this simple and tasty appitizer (or random tuesday afternoon snack:))!
What you'll need:
-Bacon (we used 6 strips to make 18 bacon wrapped dates)
-Dates (we used 18 which is about 4oz)
-Baking Dish (or you can use a cookie sheet lined with foil and skip the skewers)
-Skewers
Preheat the oveon to 350 degrees
Cut the bacon strips into thirds.
Wrap a date in a 1/3 strip of bacon
Skewer where the bacon overlaps, through the date and out the other side.
Repeat until you have wrapped all your dates, used all your bacon, or made the number of wraps you've decided is enough (though it probably isn't;)! )
Pop into the over and set the timer for 15 minutes.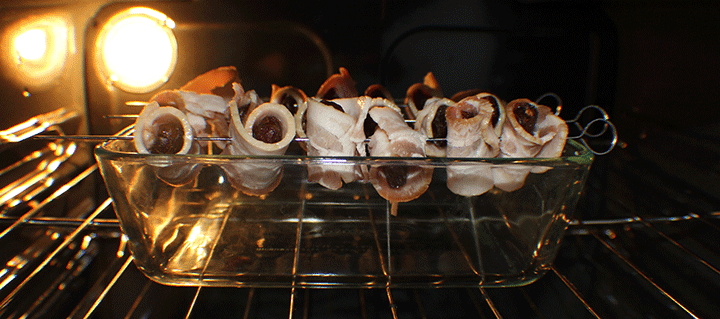 Check the wraps once the 15 minutes is up, rotate the skewers in order to try and cook the wraps evenly, but remeber, everything is hot!
Cook the rotated dates for another 10 minutes, then check and rotate again if necessary.
At this point, we turned off our oven but put the dates back in for another 5-10 minutes to cook a little longer with the residual heat.
After a few minutes of cooling (ya right, but honestly, please try not to burn your mouth!) these little darlings are ready to eat! Serve with a toothpick for quick stab appetizer, on a tasting plate as a snack, or as a tasty treat with dinner!
Did you love these as much as we thought you might?! Make any fun additions or stuff the dates with anything? Let us know in the comments below!